Hello,
We are wondering if someone could help troubleshoot Dockstore integration with our org's GitHub. I was using my personal GitHub account while developing and then I recently moved the source code to our organization. (Imaging Data Commons · GitHub). By default, I have read access to all repos in our org and admin access to this repo. (GitHub - ImagingDataCommons/Cloud-Resources-Workflows) where the WDL and CWL files reside. We tried linking Dockstore to just my repo and are unable to do so and get this error as seen in the screenshot attached.
Could we know if/why Dockstore needs to read private repos when I'm trying to link to just my repo which is public? Due to the security policies of our organization, it is not acceptable to provide Dockstore access to private data, or rights to modify its public data to Dockstore, and we do not see why it would be necessary to enable integration.
Could we know what we could do to get around this issue?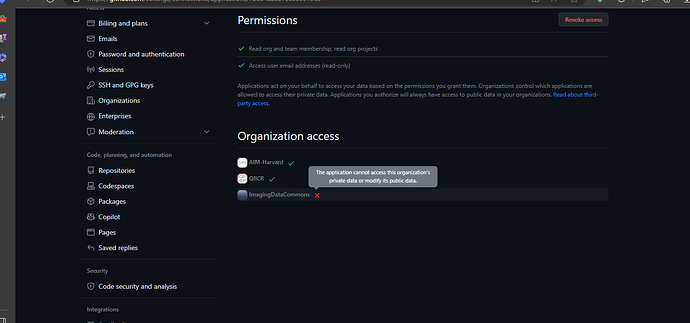 Thank you very much,
Vamsi